Internal medicine for better overall health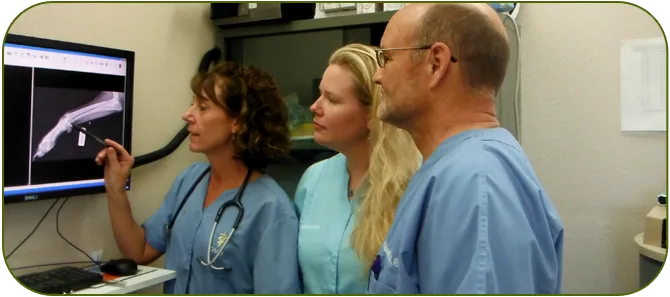 Our internal medicine department offers extensive services to diagnose and treat many conditions. We have digital radiology, ultrasound, and Idexx in house laboratory. We also utilize Antech for our reference laboratory. We commonly treat conditions such as Cushing's, Addisons, hyperthyroid, diabetes, chronic kidney disease, and heart disease. Some of our diagnostic tools include:
Digital radiology
Blood pressure monitoring
Microscope

In-house laboratory
Tono-Pen eye pressure
Ultrasound
Veterinarian Dr. Timothy Cavanagh is board-certified in medicine by the American Board of Veterinary Practitioners and dedicated to giving your pet the finest care possible.
A team approach to pet care
At All Creatures Veterinary Services, we work as a team to provide high-quality medical and surgical services for your pet. Our team approach delivers exceptional patient care. Our vets are trained to diagnose and treat problems affecting the gastrointestinal, urinary, hematologic, liver, endocrine and respiratory systems using sophisticated, state-of-the-art technology.
Advanced facilities to meet your pet's needs
In order to provide accurate diagnostics and treatment, we're well-equipped with ultrasound services and laser technology. We're skilled at treating many different types of animals with surgery, pet dental care, advanced diagnostics, pet vaccinations and spay/neuter procedures.
Our Arlington neighbors also may benefit from our full-service pet pharmacy and one-stop testing ability. For example, our veterinary clinic has its own in-house diagnostic and imaging equipment. We can diagnose and treat your pet typically without sending you somewhere else for third-party testing.
For more information about veterinary internal medicine, please call us today.